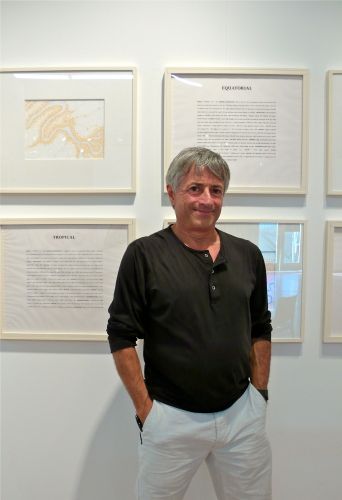 Florent Morellet
French-born Florent Morellet began to draw maps in grade school in his hometown of Cholet, outside of Nantes. His father, internationally acclaimed artist Francois Morellet, and mother Danielle, both encouraged young Florent to pursue his interest in maps of real and imagined places, which led to formal studies in city planning at Central London Polytechnic.
From London Florent continued to explore his fascination with cities worldwide, moving to San Francisco, then to Paris, New York, Sao Paulo and back to New York, where he continued to create his cartographic art, as well as, in 1985, opening the enormously successful Restaurant Florent, a project known for transforming the Meat Packing District into an urban enclave of
Florent's urban plans and maps were first seen at the Gallery M in Dortmund, Germany, when he was 21, in a show titled "Stadtebauliche Spekulationen." His first US exhibition was in 1997 at Nicholas Davies & Co., New York.
Florent is also a highly visible social activist. Taking American citizenship in 1986, he made his renowned Restaurant Florent a springboard for grassroots activism for over twenty years. He has been a leader in issues ranging from gay rights and AIDS to end-of-life choices and architectural preservation. He has received many awards and honors from local and national organizations for this work, including amFAR (The American Foundation for AIDS Research) and Heritage of Pride, which named him Grand Marshal of New York's LGBT Gay Pride Day 2006.
Since retiring from his restaurant business in 2008, Florent has concentrated his energy working on his art while remaining involved in social causes. In April 2010, the Manhattan Borough president appointed him to the city's Community Board 2.